How to get listed in the directory
If you would like to add yourself to the British Kennels Directory, whether as a boarding kennels, veterinary practice or dog welfare group, the process is very simple. Simply scroll down, choose the relevant category and click 'Register'.  Kennels and veterinary practice owners will need to pay an annual subscription fee of £10.00 during the registration process. That takes a couple of minutes. Once registered and logged in to your account, you are taken to a page where you can add your business to the directory.
In addition to basic details such as a website link, email and/or phone contacts, opening hours and address details, your business description can be as long as you like (a minimum of 150 words, ideally 200-250). You also need to provide a photo (minimum size 550px wide and 360px tall, ideally approx 700px x 450px). Once submitted, your listing will usually be online within 6-24 hours. The delay is because we need to manually check everything is okay and add a Google map to your listing.
What kind of business do you want to register?
Vet Practice
Annual Cost £10.00
Kennels
Annual Cost £10.00
Dog Welfare
Annual Cost Free
Registration Fees
Although the British Kennels Directory is operated on a non-profit basis, it has expenses, both in the form of man-hours spent working on the site and also server and software costs. The nominal annual subscription fees we charge are intended to help us recover some of these costs. We think this is a better choice than allowing free registration and then filling the site with the usual advertising garbage that ruins most websites. We hope you agree and support us on this.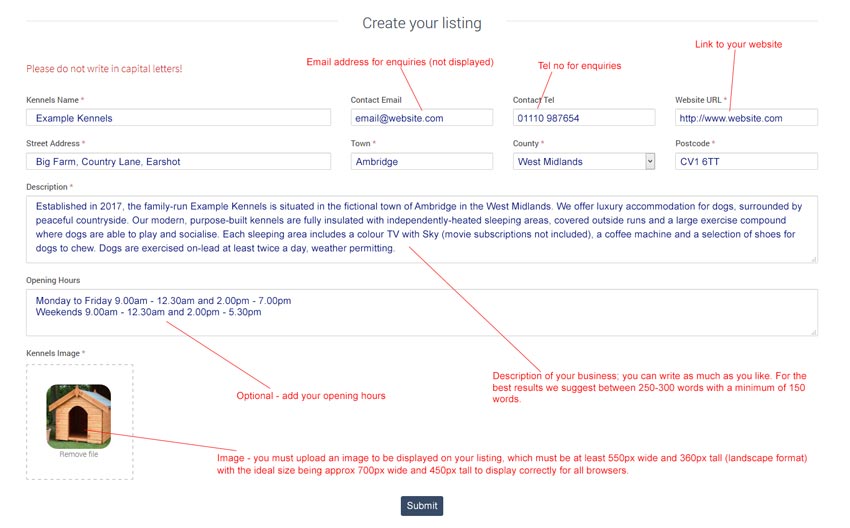 Once you have completed your registration you will receive an automated email with your login details. Use these details to Log in to your account (click login at the top of the screen) and you will be taken to your 'My account' page. From there you can click 'create a listing' and the form you see here will open.
Once your listing is online, you will be able to edit it at any time by logging on and clicking 'edit my listing'.
Dog welfare groups have a similar page which additionally allows you to specify if you wish to publish your physical address or not.