Reed House Cattery and Kennels, Lymm
Reed House Cattery and Kennels | Cheshire | WA13 9UB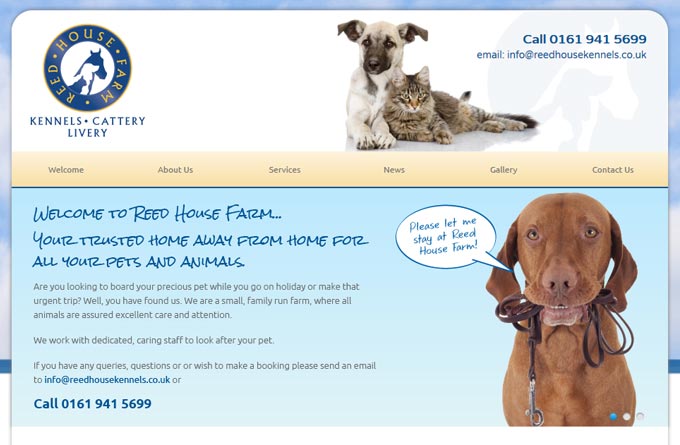 Reed House Cattery and Kennels
Reed House Farm, Gorsey Lane, Warburton, Lymm
Cheshire, WA13 9UB
Contact Details
Contact Tel : 0161 941 5699
Website : Click to visit Website
Reed House Kennels and Cattery is a small, family-run business in Lymm, tucked away in 50 acres of beautiful Cheshire countryside, close to Dunham Massey. We take all animals for both short or long term stays and also offer a professional Pets Stay @ Home pet sitting service.
Our kennels are cool in the summer; warm and snug in the winter. We maintain extremely high standards of hygiene and we welcome inspection. Each kennel also has its own large undercover run allowing dogs to socialise and be stimulated by their surroundings. We provide dogs with at least two walks per day, and offer an upgrade which includes an hour long woodland walk around the beautiful Dunham Massey estate. Our staff are warm, friendly and experienced animal lovers and have plenty of time to give each dog the individual attention it needs. Everything you dog will need for his/her stay is provided. This includes clean bowls, baskets and bedding. We try to feed dogs with their favourite foods. As with bedding, you can bring your own food if you prefer. We are happy to cater for any specific requirements, please feel free to discuss this with us.
We also offer pick up and drop off service with our fully equipped van which enables us to transport your dogs safely. Additional costs may apply – please ask us for details.
Opening Hours
Monday to Friday - 9.00am - 11.00am and 2.00pm - 6.00pm
Saturday - 9.00am - 5.00pm
Sundays - 10.00am - 5.00pm
Finding Reed House Cattery and Kennels