Lancashire German Shepherd Rescue, Preston
Lancashire German Shepherd Rescue | Preston | Lancashire | PR4 1YA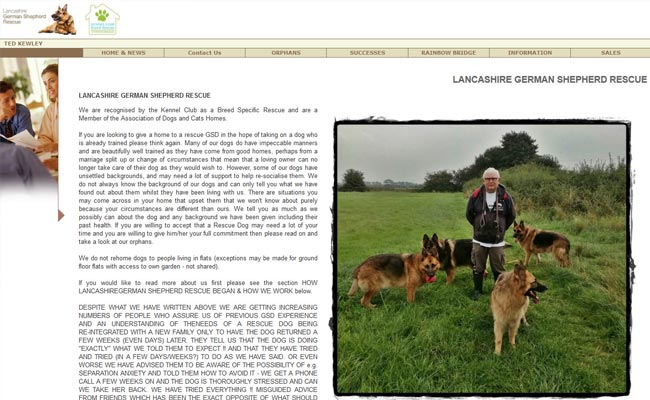 Lancashire German Shepherd Rescue
The Vines, 4, Harbour Lane, Preston
Lancashire, PR4 1YA
Contact Details
Contact Tel : 01772 633860
Website : Click to visit Website
Lancashire German Shepherd Rescue, Preston – We are recognised by the Kennel Club as a Breed Specific Rescue and are a Member of the Association of Dogs and Cats Homes. We at LGSR have been involved in the rescue and rehoming of German Shepherds for many years. Since we started we have rescued and rehomed an average of 100 dogs and bitches per year of all ages and from all backgrounds. We have had strays in need of veterinary care for horrendous maltreatment and at the other end of the scale, well cared for, well loved ones for whom changes in family circumstances made it impossible for their owners to continue to care for them as they would have liked.
We foster the dogs in our own homes believing that a kennel environment is not good for a family companion for any longer than the annual holidays – and not even that long for some. We integrate them as much as possible with the other dogs as some, no matter how well cared for, are badly in need of socialisation. We home-check all potential owners and ask for vet references so that we can be sure that the right dog is going to the right home. We don't rehome as guard dogs – our dogs are family members only.
If you are interested in being a foster carer you need GSD experience and a willingness to give your time to care for one of these wonderful dogs. If you would like to adopt we prefer you to have owned a GSD before or have a good knowledge of the breed but also a willingness to learn with a lot of love to give with an understanding that a rescue dog may sometimes have problems that we don't know about because of an uncertain background. We assess the dogs as much as we can in the time they are with us and keep a diary of their likes and dislikes to pass on when they leave us.
Finding Lancashire German Shepherd Rescue