Canada Farm Kennels, Dartford
Canada Farm Kennels | Kent | DA4 9LA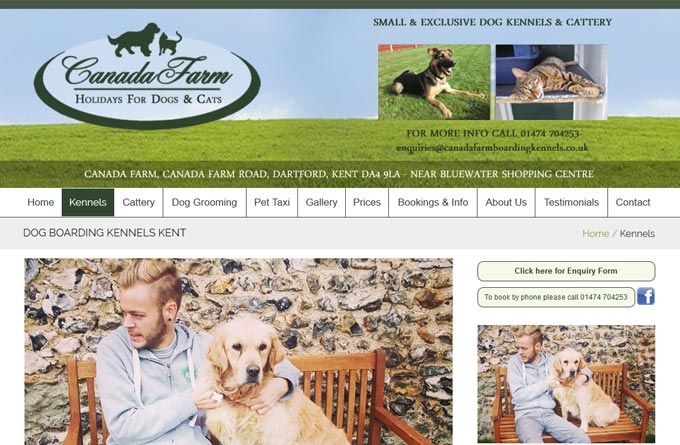 Canada Farm, Canada Farm Road, South Darenth, Dartford
Kent, DA4 9LA
Contact Details
Contact Tel : 01474 704253
Website : Click to visit Website
Canada Farm Kennels and Cattery are based on a farm in the Kent countryside between South Darenth and Hartley. From a single dog, to a family of dogs, our kennels have the perfect accommodation for your pet.
At Canada Farm we have two dog kennel blocks, each of the blocks comprising of approximately 12 individual kennels. The block overlooking the grass exercise paddocks has large sleeping rooms which lead to covered outside runs. These kennels are large enough to comfortably accommodate from 1 dog up to families of 3 large dogs or several small dogs. In our traditional barn we also have spacious heated kennels which are suitable for all kinds of dogs and families of small to medium dogs.
The kennels accommodation has individual heating and vinyl floors, providing warmth and comfort and avoids the problems some dogs have with concrete flooring. Moulded plastic beds with comfortable bedding, familiar food, lots of exercise and regular treats all help to keep our visitors happy and stimulated. All dogs are exercised four times a day in our large secure grass paddocks, where they are able to run freely. There is always a member of staff to supervise them and encourage them with toys for retrieval and chase.
During exercise the kennels are all thoroughly cleaned, most dogs prefer to keep their kennel area clean and the frequency of exercise makes it easy for them to do so.
Opening Hours
Monday to Saturday - 10.00 to 4.00
Sunday - 10.00 to 12.00
Finding Canada Farm Kennels