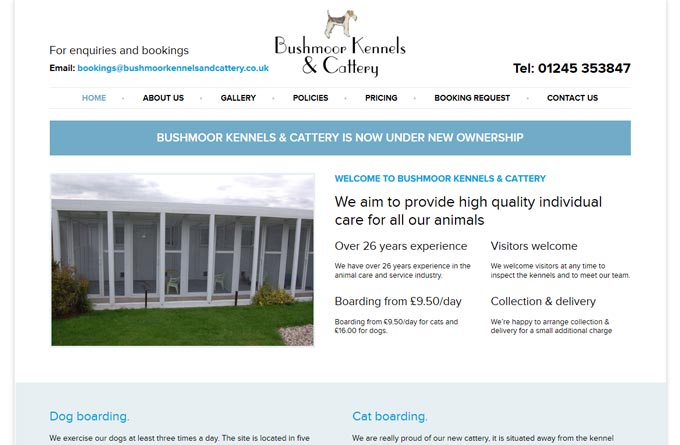 Bushmoor Kennels and Cattery is based at Galleywood, just south of Chelmsford. The site is located in five acres of land and surrounded by beautiful Essex countryside, and there is a large secure paddock area where the dogs are exercised. We exercise our dogs at least twice a day. Work is in progress to build secure exercise pens to increase the time the dogs spend out of the kennels exercised off the lead. Dogs are groomed and checked daily, and we also have a grooming parlour on site and can arrange grooming and bathing whilst they stay with us.
If you'd like to know more about the services offered by Bushmoor Kennels, or to enquire about availability, details of their telephone number, address and website details can be found below, and you can also send an emailed enquiry directly to the kennels via this page by clicking the email this button.
Finding us or getting in touch

Bushmoor Kennels and Cattery
Goat Hall Lane, Chelmsford, Essex CM2 8PH
Contact Tel:01245 353847
Website:http://www.bushmoorkennelsandcattery.co.uk/
Opening hours
Monday to Saturday - 09.30-11.30 and 2.30-4.30
Sunday - 9.30-11.00
Bank Holidays closed for collections and drop offs.