Applemore Kennels and Cattery, Dibden
Applemore Kennels and Cattery | Hampshire | SO45 5TL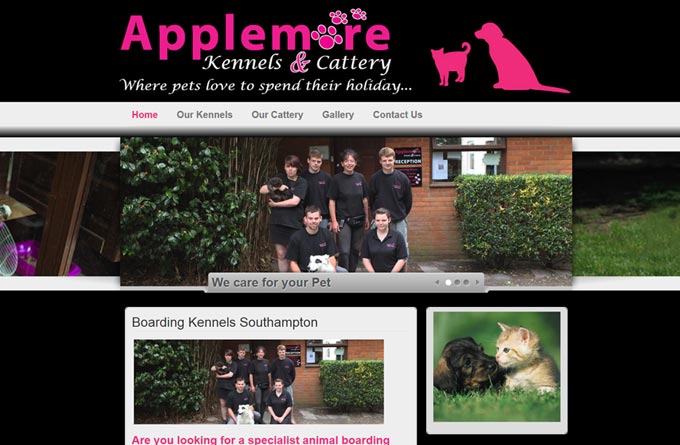 Applemore Kennels and Cattery
Applemore Hill, Dibden
Hampshire, SO45 5TL
Contact Details
Contact Tel : 023 8084 2103
Website : Click to visit Website
Applemore Kennels is located just off the Hythe Bypass in Dibden, on the edge of the New Forest. Our kennels accommodation consists of 6 blocks, each with a different design. The kennels accommodation is heated in winter and has a large outdoor covered run, allowing dogs to stay dry in wet weather and cool in the summer. The accommodation includes a plastic bed lined with a fleece blanket. Dogs are exercised twice daily in one of our 9 large play compounds which allows each dog plenty of room to run around and play. On-lead walks on the grass are also available if preferred by any guest.
We stock most brands of food both complete and tinned and will keep to each guests' normal feeding routine, whether it is once, twice or three times a day. If your pet is on medication, we will carry on with the usual routine. We also cater for diabetic pets that need their insulin injections and epileptic guests. There is no extra charge for this service.
We also offer a day board service allows dogs to be dropped off in the morning and collected before closing.
Opening Hours
Open 7 days a week - 8.00– 12.00 and 3.00 – 5.30
Finding Applemore Kennels and Cattery